When I was in third grade, Academy Park had a gift fair. It was right before Christmas and we were allowed to bring money to buy gifts for our family members. I don't know if schools still do that, but it's a really good thing, in my opinion, because as a kid I wasn't allowed to shop that often, so buying a present for someone was difficult.
We were Jehovah's Witness, so I wasn't allowed to celebrate Christmas, but that didn't stop me from buying presents for everyone at that fair. I bought this for my grandma.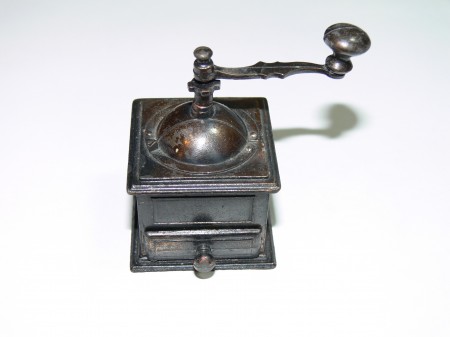 It stands only two inches high and it's a pencil sharpener. That little drawer opens up to empty out the pencil shavings. My grandma was an antiques dealer, so I had seen the coffee grinders that she owned and loved. I thought that she would like this because it looked like an antique.
Because we didn't celebrate Christmas, I gave her the pencil sharpening coffee grinder the next day. She took one look at it and said that she didn't like it. She gave it back to me. I tried to explain to her that it looked like an antique and she liked antiques, but she was certain that I bought it because I wanted it myself, so she insisted that I take it back.
I didn't want it myself. I really thought she would like it.
I found it last week with all of my Barbies. It kind of lived in all of my Barbie houses that I created over the years until it was finally shoved with all the clothes and furniture in the doll box. It kind of served as a doll-sized representation of my grandmother's antiques. Seeing it again after so many years made me incredibly sad at the rejected gift. I put it in the china cabinet with her crystal and Depression glass.
---
On another note, DUCKZBUNNY Blog has the collection of pencil sharpeners that this came from. They are photographed beautifully.
And you can buy the ENTIRE set here: