Mike and I were taking Nina for a walk a couple of weeks ago when we ambled past The Break, the new sports bar. We've avoided it, because they didn't have Buzztime Trivia and we don't watch sports. When we walked by, however, we thought pub food sounded good, so we would order some to go and take it home.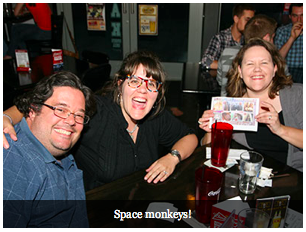 While we waited, we were surprised that there was a trivia game going on. It seemed pretty fun, so we thought we'd come next week. So glad we did, because we WON first place (and a free beer for the Guy Ritchie question)!
You can read about it here:
[Space Monkeys] got all but one questions on round two for 15 points and then they jokered for a massive early 30 point lead that they barely held on to all night.
"Jokered" means you can choose one round where you get double the points you earn on that round. We chose that one because that round was music clips and we were pretty sure we had all of them, except the CCR song. Lucky thing we did that because it really helped.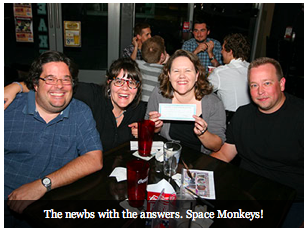 Being first timers, I was worried that it would be too complicated to understand what was going on, but the instructions were very clear. I was also worried that I wouldn't be able to hear the questions, which DID happen a couple of times, but he was careful to repeat any questions for anyone who needed it. I love that he plays music in between the questions, so we can kibitz without people at other tables hearing.
It was the perfectly orchestrated trivia game and the food was DELICIOUS!
Can't wait until next Wednesday!